Meet Dr. Jimmy Allgood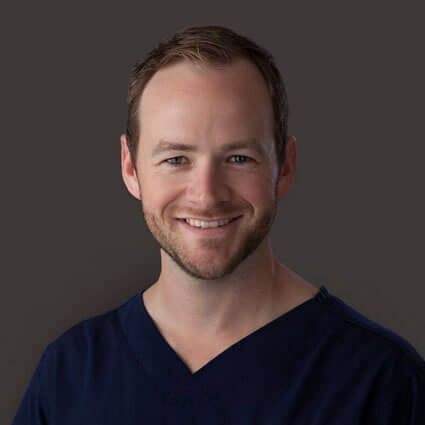 "I think it was Dr. Jim Parker, the founder of Parker University, that said, 'Your patients will get better if you hit them with a broom, as long as you love them.' I put that loving intent into everything I do."
A First Encounter With Chiropractic
While playing youth baseball in the Leander Cedar Park area, Dr. Jimmy threw a pitch and lost control of his legs. He knew something wasn't right. A kid on the team mentioned chiropractic, and Dr. Jimmy's mother brought him to a chiropractor the next day. Immediately after the adjustment, the feeling returned to Dr. Jimmy's legs. He was able to pitch a game the next day.
By closely watching his chiropractor, Dr. Jimmy began to learn more about the natural healing profession. He noticed that it wasn't like the typical doctor/patient relationship most people think of – it was far deeper. This experience completely changed Dr. Jimmy's life, and he decided to become a chiropractor.
"We were put on this earth to help and serve each other, and I get to do that every day. I believe I have the best job in the world!"
Growing Up In Our Area
Dr. Jimmy went to Leander High School and was blessed to see the area erupt with growth. He saw two-lane roads become major highways, and empty fields become major shopping centers.
"Throughout my life, I was told, 'You are a product of your surroundings.' I am living proof of that. With such a thriving economy in my hometown, I had no option but to become the very best version of myself." After graduating, Dr. Jimmy attended North Lake College in Irving, Texas. He briefly played college baseball before deciding to focus all his efforts on chiropractic.
That focus paid off when he was accepted to Parker University, one of the top chiropractic schools in the nation. There, he was pushed to grow and achieved things he never thought was possible. At Parker, he learned a principle that he carries with him to this day: "Develop a compassion to serve that is greater than the compulsion to survive."
His experience at Parker was taken to an even higher level when he met his future wife, Dr. Lauren, there.
After earning a Doctor of Chiropractic, Dr. Jimmy worked as an associate while Dr. Lauren finished chiropractic college. They then returned to Dr. Jimmy's home to give back to the community that shaped him.
"Every time I see a patient make progress or I'm able to help them in some way, it fills my tank. The more I fill my tank, the more I'm able to serve people."
EXPLORE CHIROPRACTIC
Staying Busy
Dr. Jimmy's father was a custom cabinet builder, and Dr. Jimmy inherited that hands-on talent. He enjoys doing custom woodwork, building furniture, working on cars and tinkering with just about anything. "I'm always scratching the itch to create or make something better. I never sit down!" With his boundless energy, Dr. Jimmy enjoys hunting, fishing, kayaking and camping. He's also a pilot. In his spare time, Dr. Jimmy loves playing sand volleyball, disc golf, football and baseball.
These days, Dr. Jimmy's family keeps him busy. That includes his beautiful wife Lauren, their daughter Avery, and a new baby on the way. Avery was born at home and adjusted just seconds after her arrival, as she was cradled to mom's chest – just like they plan for their second child.
Call Now
Ready to learn all about the benefits of care? Contact Allgood Chiropractic and Family Wellness Center to book a same-day appointment!
---
Dr. Jimmy Allgood | (512) 276-2710