Meet Dr. Lauren Allgood, DC, CACCP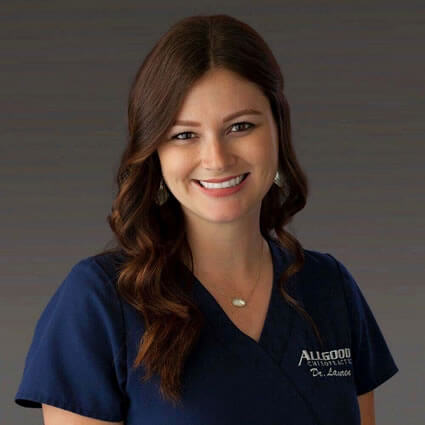 Dr. Lauren is out temporarily on maternity leave. She will return to Allgood Chiropractic and Family Wellness Center as her baby's and her family's needs dictate.
Growing up, Dr. Lauren was an avid athlete, she played softball and volleyball in high school and softball in college. She always strived to be at her athletic best, and she was even awarded Mrs. Softball Louisiana her senior year of high school. While in college, Dr. Lauren worked with her cousin who is also a chiropractor. He showed her how she can impact people's lives in a positive way, which was always her dream when looking for her career.
Education and Certifications
In addition to earning her Doctor of Chiropractic from Parker University in Dallas, Dr. Lauren became board certified from the Academy of Family Practice, earning her CACCP credential. This allows her to offer the highest quality of care to pediatric patients. She also is certified in the Webster Technique, which allows her to better serve prenatal patients.
Forging Relationships With Patients
Caring and loving, Dr. Lauren enjoys getting to know our patients, who become family to her. "I love the relationships I get to have with them." She finds it rewarding not only to help them by using chiropractic care but also in all aspects of their life. Whether she's caring for a young child or an older senior, Dr. Lauren connects with patients across the spectrum.
An Enthusiasm for Prenatal & Pediatric Chiropractic
Dr. Lauren is particularly passionate about helping women from preconception to delivery and beyond. She stresses the importance of getting your body as healthy as possible before you get pregnant and staying healthy all through your pregnancy and postpartum journey.
Both she and Dr. Jimmy got adjusted consistently before getting pregnant with their little girl, Avery. Dr. Lauren also got adjusted throughout that pregnancy. She hardly had any pain or issues and was able to have a natural birth at home. For Dr. Lauren, chiropractic care has helped to keep her healthy, both mentally and physically for the past ten years.
"I've been able to help many women go from infertility to becoming pregnant, to having a healthy pregnancy and experiencing the birth they wanted, then having a healthy baby, child, and teenager."
EXPLORE CHIROPRACTIC
More Than Pain Relief
"While chiropractic is great for pain, it's much more than that. We're here to help improve the overall health and wellness of our patients." Dr. Lauren's goal is to determine how best to improve her patients' overall health, which helps them to increase their overall happiness as well.
Enjoying an Active Family Life
Outside the practice, Dr. Lauren loves to spend time with Dr. Jimmy and Avery, who is now a happy and active toddler. The family enjoys spending time outside, especially by the lake!
Dr. Lauren recharges by doing yoga and listening to music. She also loves to hang out with their dogs, Dino and Ace, a Lab mix and a German Shorthaired Pointer. Dr. Lauren and Dr. Jimmy also have been staying busy by fixing up their house here in Steiner Ranch. They are happy to live out their dream of getting to be a part of the community that they serve.
Dr. Lauren and Dr. Jimmy are looking forward to the arrival of their baby boy, Weston, in April 2021!
Book an Appointment
Our team looks forward to welcoming you to the practice soon. Contact us today to schedule an appointment!
---
Dr. Lauren Allgood | (512) 276-2710