Allgood Chiropractic and Family Wellness Center
How It All Started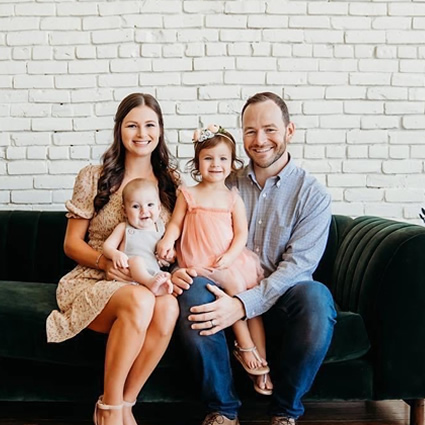 Drs. Jimmy Allgood and Lauren Allgood met at Parker University, where they both attended chiropractic college. When Dr. Jimmy graduated in 2013, he worked as an associate while Dr. Lauren finished up her chiropractic education.
After they got married, it was time to find a family-oriented community to serve. Dr. Jimmy grew up just down the road from Steiner Ranch, he knew how gorgeous the area was, and he always felt drawn to Lake Travis and Lake Austin!
When he brought Dr. Lauren to Steiner Ranch for the first time, she saw the family-oriented community, the amazing lake views, and the rolling hill country and said, "This is where we need to serve and grow our family." So that is exactly what they did!
"We are so happy and filled with excitement to serve you and the community of Steiner. We would love the opportunity to get to know you!" -Drs. Jimmy and Lauren
It's All About Families
Our purpose is to love and serve families to the best of our ability.
In our family-oriented environment, you and all of your loved ones can get the specific care that everyone needs. You can even schedule a group appointment for parents and children to get adjusted at the same time.
We love seeing the changes in families as they go through care. They have a more positive dynamic, feel better, and they even experience benefits like not getting sick as often as they used to!
The Incredible Human Body
Think of everything you're doing, even right at this moment. You might think it doesn't seem like much until you go a little deeper. Your heart is beating. Your lungs are breathing. There's probably some food digesting in your belly.
You don't ever have to tell your body to do these things. It's capable without any directions. Thankfully, it's the same way with healing. Your body is constantly at work behind the scenes, trying to make you well. What we do at Allgood Chiropractic and Family Wellness Center is to further facilitate that healing by removing any interferences.
We Are Doctors of the Nervous System
This might surprise you, but chiropractic care is not only about getting you out of pain. A chiropractor focuses on assessing and correcting misalignments in your spine that affect your nervous system. You can think of pain as a "check engine" light, signaling that your nervous system needs some help. That pain might be back pain, neck pain, headaches, allergies, digestive issues and more letting you know that it is time to have your spine assessed for misalignments but also that your nervous system is not working to the best of it's ability which could be negatively affecting other systems in your body and decreasing your overall health.
Our goal is to get that check engine light to turn off using gentle, specific chiropractic care. When your body works as it should, you can experience far-reaching benefits that you may never have dreamed were possible with chiropractic.
MEET THE TEAM
Fight or Flight Vs. Rest and Digest
You've heard of a "fight or flight" instinct, right? Well, there are two parts to your nervous system. One is the sympathetic, which is responsible for your fight or flight response. The other is the parasympathetic. When your nervous system is in a parasympathetic, or "rest and digest" state, you can heal.
If you're been dealing with pain and other struggles, your nervous system is in that fight or flight mode. We want to get it to turn off and get your body into the rest and digest mode. We do this not only by delivering specific and corrective chiropractic care but by serving you with love, meaning your healing starts the moment you step in the door! Reach Out
We're here to answer all your questions. Contact our chiropractic care center now to learn more about what we do!
---
About Allgood Chiropractic and Family Wellness Center | (512) 276-2710